Phoenix Sensors is a US manufacturer of pressure sensors like the PPS41 series. The PPS41 is an amplified digitally compensated pressure sensor in a compact 8-pin package.  This silicon pressure sensor  was designed for  accurate pressure applications.
The PPS41 series utilizes MEMS piezo-resistive sensors pressurized on the passive backside of the pressure die and is isolated from the substrate with an RTV for long term stability and accuracy.
Please  contact the factory for Custom design availability.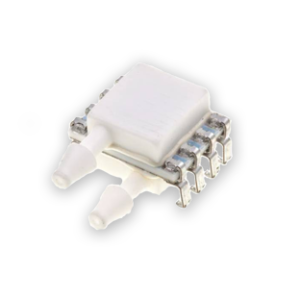 Digital Pressure Sensor Specifications
Differential/Gauge Pressure Sensor
  -10°C - 85°C Operating Temperature
  Compact Size – 8 Pin DIP
  ± 0.25% Linearity FS
  .5-4.5V Analog Output
  Pressure Range: 2-30" H2O
  Resolution: .01 %
  Accuracy:  ± 1 %  (includes-Hysteresis, NL, TC)
Digital Pressure Sensor Applications
Flow Meters
Gas chromatography
HVAC
Pneumatic Controls
Aviation
Medical Equipment