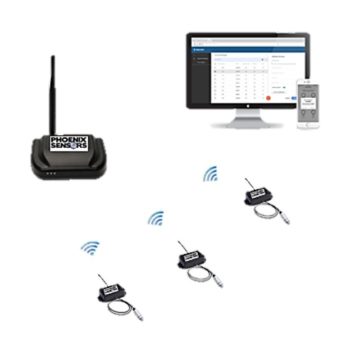 The PS9C is an advanced Cellular wireless sensor gateway allowing customers to monitor sensor applications,…
Read More
The Phoenix Sensors Wireless Sensor Gateways are advanced Bluetooth, USB, wireless, and Cellular Sensor gateways allowing customers flexibility in monitoring sensor applications, save data, and receive alert notifications.   The advanced IoT security format and flexibility allow our customers to meet their most challenging applications needs.  Customers can monitor up to 50 Phoenix Sensors wireless sensors.
WEB & MOBILE APPLICATION
Simple to use web interface and mobile applications allow you to configure and access the gateway, as well as other devices on the network if you choose.