PPT81 Analog High Temperature High Pressure Transducer
High Temperature Pressure Transducer
Phoenix Sensors is a US manufacturer of pressure sensors like the PPT81 series. The PPT81 is a high temperature low Pressure sensor manufactured for the most challenging of applications. This silicon pressure transducer was designed for industrial and commercial applications including automotive, energy and commercial applications. The stainless steel design and high temperature analog component selection allows the sensor to be used in high temperature environments.
The PPT81 series utilizes MEMS piezo-resistive sensors pressurized on the passive backside of the SS housing which has superior long term stability and accuracy (TEB 1%). For a smaller size transducer with a low price point for OEMs check out our PPT7Y series.
The design is simple, cost effective, and proves reliable for OEM customers. Please contact us for Custom design availability.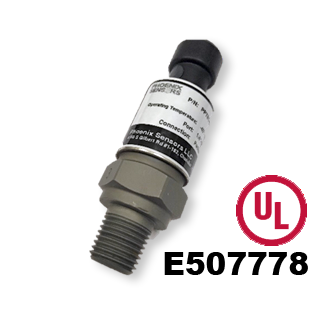 PPT81 Specifications
Low Pressure
Media Isolated –SS316
-20-125°C Operating Temperature
Compact Size
TEB 1% (.25% Linearity Full Scale)
Ratio 0.5 – 4.5V, 1-5V, 4-20mA, RS485
50-15,000 PSI pressure ranges
Gauge or Compound Pressure ranges
Media – Liquid, Air, & Gas
IP65 (IP67 Option available)
PPT81 Applications
Consumer products
Industrial Automation
HVAC
Automotive Engine
Compressor
Pneumatic
Package
The one piece body design is made of stainless steel (SS316L), which allows for easy manufacturability and long term stability. Automotive grade vibration proof design for engine mount.
Stability
The silicon MEMS pressure sensor element is mounted to a ceramic base and sealed into the SS housing. The selection of thermally capability materials reduce the mechanical stress on the sensor resulting in greater stability over time and temperature.
Additional stability is gained from factory stabilization of all sensors.
Pressure port
1/4" -18NPT and 1/8"-27NPT threads are standard SS fittings. Other port fittings such as 7/16-20UNF, and ¼" BSP are available for OEM customers.
Media
The pressure port is tolerant to most media including but not limited to oil, air, gas, some corrosive media, and saltwater.
Wetted parts
When checking media capability, the wetted surface is composed of only stainless steel (316).
Pressure ranges
Standard pressure ranges are 50, 100, 150, 200, and 300 psi in compound and gauge. Custom pressure ranges are available for OEM customers.

IEC 61000-4-2 Electrostatic Discharge Immunity (8kV contact/15kV air) • IEC 61000-4-3 Radiated, Radio-Frequency Electromagnetic Field Immunity (10V/m, 80M-1GHz) • IEC 61000-4-4 Electrical Fast Transient Immunity (1kV) • IEC 61000-4-5 Surge Immunity (V+ to V-: ±2KV/42Ω; L to Case: ±1KV/12Ω; V- to V0: ±1KV/42Ω) • IEC 61000-4-6 Immunity to Conducted Disturbances Induced by Radio Frequency (10V) Fields (150K~80MHz, 10V level for voltage output models, 3V level for current output model) • IEC 61000-4-9 Pulse Magnetic Field Immunity (100A/m peak) For all CE compliance tests, max allowed output deviation ±1.5 %Span.